IR35 Solution
Off-Payroll Solution


for Agencies
QAccounting have developed an Off-Payroll solution for Agencies keeping Inside IR35 Contractors operating through their Limited Companies post 5th April 2020.
We have developed a compliant solution to IR35 offering recruitment agencies the opportunity to remain directly engaged with Contractors.
The Off-Payroll compliant service is fully administered by QAccounting. Utilising the Agency self-billing system we generate the BACS files, make the RTI submissions and ensure Contractor compliance regarding statutory submissions and insurance. The solution is compliant with the Off-Payroll legislation.
Off-Payroll Solution
The Key Elements
The Agency continues to contract directly with the Contractor through their PSC and pay their "deemed" salary.
The Agency continues to have Contractor invoices processed through its self-billing system.
The Off-payroll is for tax purposes only, all employment law legislation remains ring-fenced to the PSC as the primary employer with no exposure to the Agency or Client.
The Agency's Contract with the PSC reflects the inside IR35 status and working Practices as reviewed by QAccounting (advised by EY).
The Contractor avoids periods paying both Umbrella and Accounting Fees and provides the freedom to pay into their pension of choice.
This service is provided for £15 per week including Protection and Indemnity, Employers Liability and Public Liability insurance and is more cost-effective than Umbrella solutions.
QAccounting will ensure full Contractor compliance.
A contract will exist between the Agency and QAccounting for the provision of the off-payroll services.
Off-Payroll
Steps in the process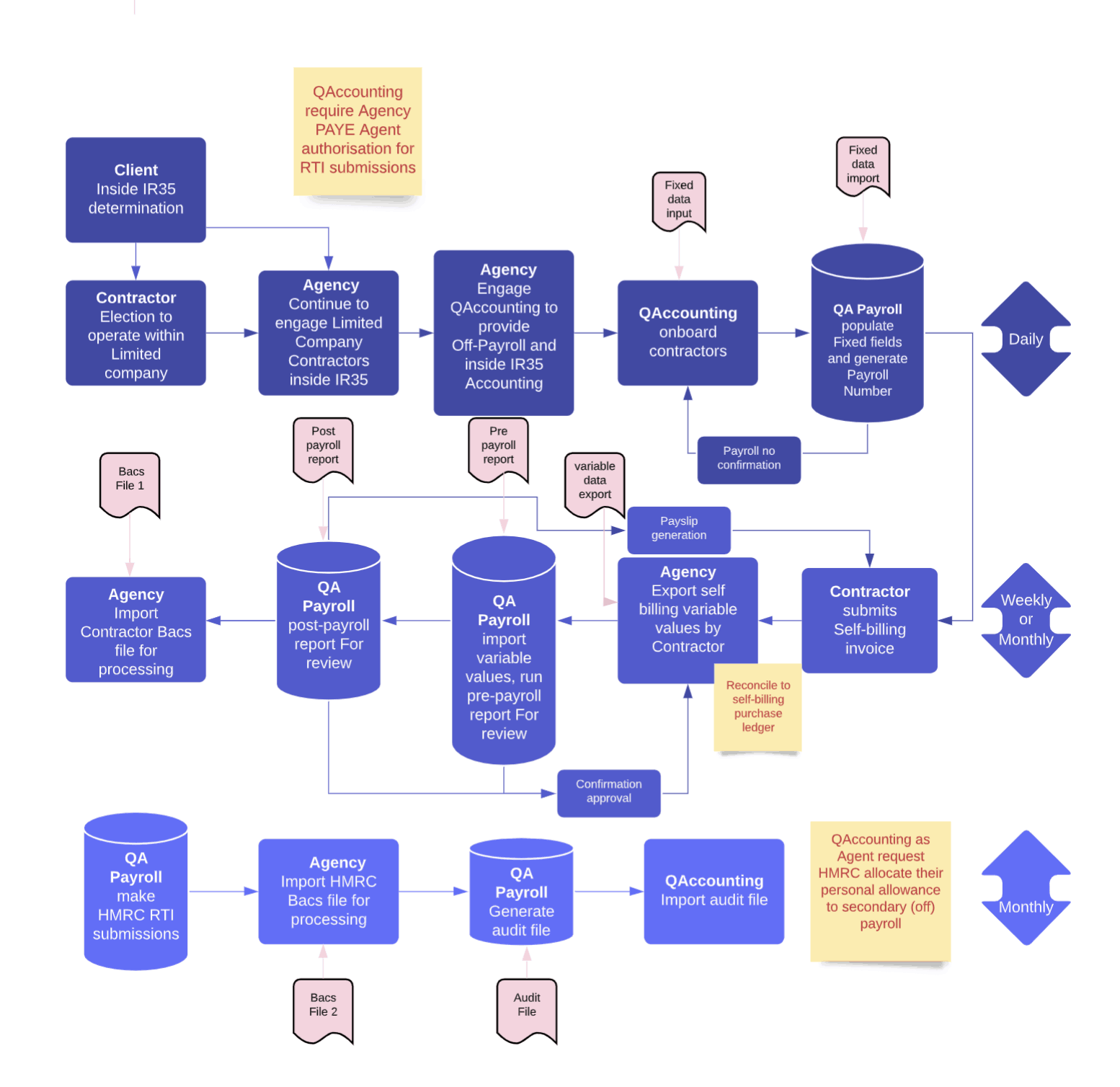 PAYE Agent Authorisation for RTI Submissions – We require agent authorisation for the Agency itself in order to make HMRC RTI submissions.
Fixed Data Import – Off-Payroll Contractor Fixed Field import.
Variable Data Import – CSV file generated from the Agency Self-Billing system providing data for the payroll run.
Pre-Payroll Report – Payroll report reconciled to the Agency self-billing ledger.
Post-Payroll Report – reconciled to BACS file.
Contractor Payment BACS File – BACS file in Agency's Bank format for processing through Agency Payment Run.
HMRC RTI Payment BACS File – BACS file in Agency's Bank format for processing through Agency Payment Run.
Audit File – Generated by QAccounting payroll system for import into Contractor Accounts.
Off-Payroll
IR35 Solutions
QAccounting is the UK's longest-serving contractor accountancy. Established over 25 years ago, we have a long history in delivering innovative and compliant services to contractors, including payroll, accounting, insurance and IR35 solutions. If you have any questions or if you would like any more information on our Off-Payroll solution for Agencies then please get in touch.